Waiting for Result of B.A/ B.Sc/ B.Com./ BBA/ BCA Part-III Annual Examination 2016 ? Here you can check the UG PART-3rD result 
Here you can check the online result of Under graduate Part-III that has been declared by jammu university in their official website i.e http://www.jammuuniversity.in/ and http://www.coeju.com/. This is a great news for all UG students in jammu and kashmir who held their exam under Central university of jammu and eagerly waiting for result. Here you can check your result by two methods i.e By name OR By Roll number. You can also download your mark-sheet of part-3rd result. Read this post completely to get full information about JU exam result 2016.
B.A/ B.Sc/ B.Com./  BBA/ BCA Graduate Final year Result 
Central university of jammu has been declared the Final year result of BCA, BBA, B.COM. BSC and B.A on 15-06-2016.  You can direct download the part-3rd Result Gazette to check your result OR just put the rolln0. or name to get result.
Check Online Result 2016-2017
You can follow any one step from Three that are listed below to check your Result:-
Open Jammu university official website i.e jammuuniversity.in and click on result section then, finally check for "Result of B.A/B.Sc/B.Com./BBA/BCA Part-III Annual Examination 2016″
Open coeju official website i.e coeju.com and Click on UG Result section then, Download the result Gazette and search your result by Name or Roll-no As, your choice.
Just click on the image below :-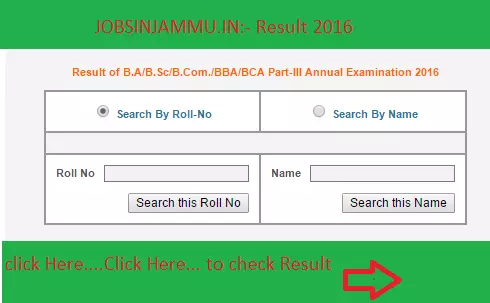 Download B.A/B.Sc/B.Com./BBA/BCA Part-III Annual Examination 2016 Result Gazette: CLICK HERE
Download your Marks certificate
Jobsinjammu.in is only single and unique website which will provide every result and jobs in Jammu and kashmir detail in single platform. You can like us on facebook or in any social media or just subscribe us to get all latest JOBS updates. You can also check another result by following all 3 steps or jobs after graduates in J&K just keep touch with us to get regular updates.