Apply now for Upcoming J&k Grameen Bank jobs in Jammu and Kashmir for various post like Post Of Manager, Sr. Manager, Office Attendant (Multipurpose),Chief Executive, Clerk and P.O I. Freshers/Experienced/MBA/BCA/MCA/BSC or Graduates Applicants can apply for mentions post.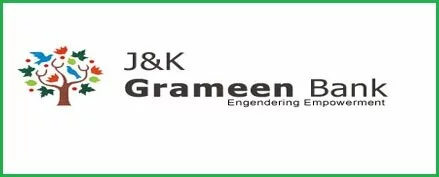 www.jkgb.in Recruitment 2016
J&K Gramin Banks jobs Brief history Profile:-
The Grameen Bank was established to help poor people of village. The word "Grameen", is made of the word "gram" or "village", and means "of the village".  J&k Gramin bank is the one of helping bank to the local people of J and k village.
J&K Grameen Bank (JKGB), was established on 30th June 2009 after amalgamation of two erstwhile RRBs viz.
"The area of operation of the back is extended to 11 Districts, besides some parts of District Srinagar and Ganderwal of J&K State.The network of the bank consist of two Regional Offices, Six Area Offices and more than 200 branches . The main objective of the Bank is to improve the economy of rural, semi-urban & urban centers."

source: (jk Grameen Bank history)
jk Grameen bank Vision
They want J and K to be prosperous state among other state in INDIA   by helping create a new financial architecture for the J&K economy.
Mission
Their mission is to provide the village  people of Jammu and Kashmir best financial service.
Above factor will make them, the most profitable Bank in the country for village people.
How to apply for J and K Gramin Bank in 2016
Interested and eligible candidates can visit their official j&k Grameen bank website Careers page for jobs updates or can visit daily our Bank jobs category  on Regular basics.
Qualification :
 Candidates must qualify his/her exam for particular post.
 The candidate must be the domicile of J&K State and should have  proficiency in any one of the following local languages:-
1. Dogri
2. Punjabi
3. Kashmiri
4. Dardi
5. Pahari
6. Gojri
7. Ladakhi
8. Balti (Pali)
Bank Official office Full address
Head Office :
J&K GRAMEEN BANK
Narwal, Jammu (J&K).
Ph. No. 0191- 2490021
e-mail : [email protected]
Registered Office :
J&K GRAMEEN BANK
Narwal, Jammu (J&K).
Ph. No. 0191- 2490021
NEFT/RTGS Helpdesk :
e-mail: [email protected]
Ph. No. 0191- 2490992
For recommendations & suggestions
Contact:
Ph. No. – 0191-2490023, 2490114
e-mail: [email protected]
Maintained by:
IT Department