If you are looking for contractual Teacher Jobs in Jammu and Kashmir for the Session 2016-2017 ? Then, Apply Now for various teacher's Post in kendriya vidyalaya no.1 Gandhi nagar  jammu -180004 .
  kendriya vidyalaya Recruitment 2016: kv no.1 Gandhi Nagar  invites application for eligible candidates for interview to prepare panel of teachers on purely contract for the session 2016-2017 for the PGTs ( English ,Biology , Hindi, Bio-Tech , Physics Chemistry, Economics, Geography,  political science , commerce, History, Maths  ) Doctor, Nurse, experts in Art and Craft, Music (instrumental and Vocal), Dance ,TGT( Hindhi, English, science ,Sanskrit,  Maths) , computer instructor,  Primary Teacher and Various Posts.  Here you will get all details about kvs recruitment in Gandhi-Nagar 2016.
KVs recruitment 2016-17.
 

 Post Name, Education Qualification and Date of Interview.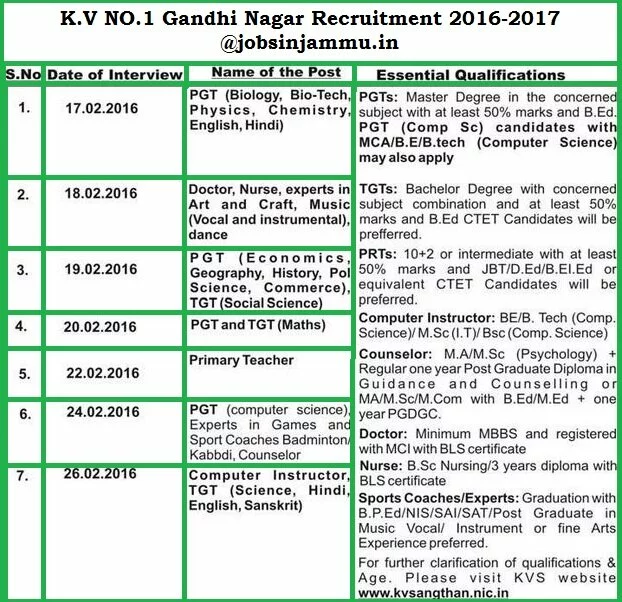 How to Apply for Tgt, pgt,… jobs in kendriya-vidyalaya ?
Eligible Candidates may submit their application form with Bio-Data two day before date of interview. You can also check the official website of kvno1 Gandhi Nagar i.e www. kvno1jmu.edu. in
Note:- No bio data form will be accepted after date of Interview.
All the eligible candidates bring their original documents and experience at 1:00 Pm as per the scheduled mentioned above.
Exam  :
Written test may be conduct for PRT and Pgts (Computer science)  posts.
You can also see Current Part Time , Private jobs and govt jobs in Jammu .
If you have any doubt in your mind then feel free to contact Us or just comment in the below comment Box.
You can also Follow us on All social media Like Facebook.com ,  Gmail.com and  twitter.com to get regular touch with all updates of latest jobs in J and k.
KVS JOBS 2016.
kendriya vidyalaya No. 1 Gandhi nagar, Jammu, jammu and kashmir Inviting all the eligible candidates for the prt, pgt, tgt and various post for the session of 2016-2017. All the eligible candidates can submit their bio-data information on or before last two days of the interview schedule dates.