Looking for JKSET / SLET ( State Level Eligibility Test) Exam syllabus and Previous old question/ sample Question paper I, paper II, paper III : Download PDF
State Level Eligibility Test: Want to pass the SET Exam, then you must have to Know Exact syllabus, Exam pattern and Question papers. University of Kashmir recently publish the official notification for the State Eligibility Test exam 2016, in total 37 subjects and in 2 Centers in Jammu and Srinagar. All the eligible candidates can apply online for set exam on or before last date 4-04-2016. If you still not aware about official notification Then, you can check official notification from "State Level Eligibility Test J&K Exam 2016 OFFICIAL NOTIFICATION" . Get Complete subject wise syllabus, Previous years Questions paper, 37 set Subject  list details.
If you posses Master degree/ post-graduation level with minimum marks percentage of 55% then, you have a great opportunity to get a govt jobs in Jammu and kashmir as a Lecturer and Assistant Professor Posts in colleges and universities. Every one have dream in their life that, after graduation they, get government jobs and settled their life. Firstly, you must have to clear SET (State eligibility test ) exam. If you know the exam syllabus and sample paper then, your half percentage work is over to get successful qualify SET Exam.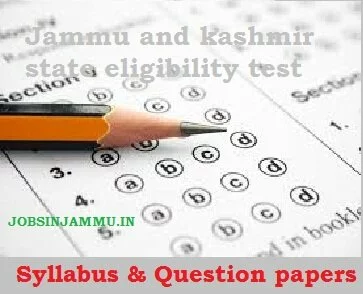 Exam pattern ( Paper I, Paper II, Paper III ) :- Previous Year Question paper
SET Exam consists of three paper 1, 2, 3 in two, session first and second. State eligibility test consists of total 350 marks with 185 question out of which 175 question compulsory to attempt. Total Duration of State Eligibility Test exam paper 1, paper 2 and paper 3 are 5 hours. Exam test will be conduct on  22 st May, 2016 (SUNDAY) and it is purely object type questions / Multiple choice question (MCQ).
SET Paper pattern and schedule:  

SET J&K SUBJECTS LIST
University of kashmir conducting jkset test in different 37 subjects. All the Master degree/ post-graduation level with minimum 55% marks percentage Qualified students  can apply Online for State eligibility written exam in their own language. Here, is the list of subjects that are available for State Eligibility Test 2016:-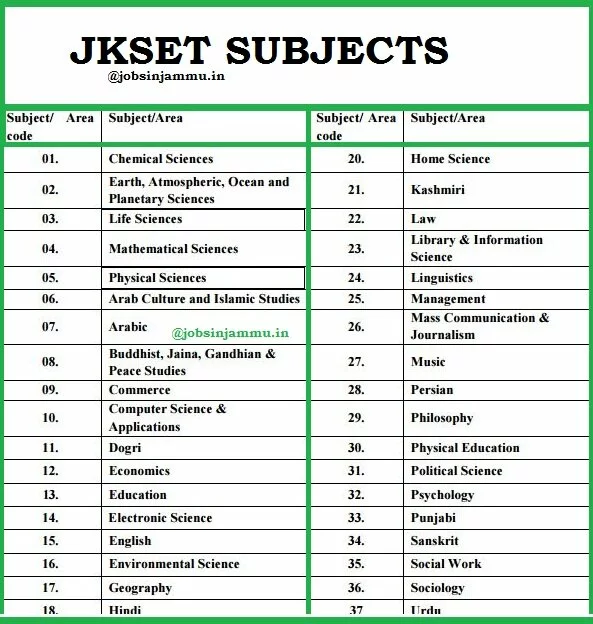 Previous year/ old Sample Question paper  
Sample question paper help you to guess the exam pattern and important topics that, will help you to do strong preparation. In, short period of time ( Around 2 months ) you can't prepare all topics that are mentioned in syllabus. So, you must aware of the topics that usually come. Here, we will mentioned official source, that will completely provide you Each and every subjects Questions papers.
You can download set question paper (1,2,3) pdf from the official ugc website or from the SET Link. Firstly, open the http://set.uok.edu.in/ State Level Eligibility Test official website and check the announcement and you can direct check the quick link to get Official notification, Syllabus, Question papers.
Download JKSET Previous Years Subject wise Questions Paper ( Paper I, Paper II and Paper III): 
Syllabus JK-SET :- Subject wise
All the eligible candidates can check the syllabus for set exam to do preparation. All the applicant must have to do strong preparation as, thousands of candidates apply for State Level Eligibility Test exam to get government jobs in Colleges and university of Jammu and Kashmir. You can also check the subject wise Syllabus of J&K State eligibility test from the SET Official website. Here, is the direct link available from where you can download pdf of syllabus.
Download set ( State Level Eligibility Test) 
all subjects Syllabus pdf 
If, you still not applied online for SET Exam then, you can check the all instruction to apply online and check official notification to known the eligible criteria, Roll no., Application form and important dates.